Under Armour Healthbox Fitness Band, HRM and Scale Bundle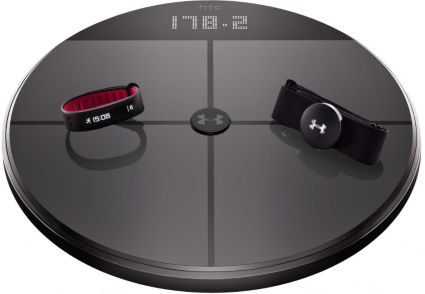 Under Armour Healthbox Fitness Band, HRM and Scale Bundle
is rated out of
5
by
69
.
This product is currently out of stock.
Please choose product options above
Please choose product options above
PDP Sticky bottom AddToCart Section - active and hide position
Product Information:
Own your fitness goals with the Under Armour® Healthbox™. This Connected Fitness system puts your health and fitness first, and includes the UA Band, UA Heart Rate, and UA Scale. Track your daily steps, calories, heart rate, and sleep patterns then upload the data to UA Record™. The smart scale tracks your weight, body fat percentage, and weight goal progress for in-depth data so you can begin your fitness journey.
FEATURES:
Fitness tracker band, heart rate monitor, and scale bundle
Healthbox™ includes a free 1-year membership to MyFitnessPal Premium and MapMyFitness MVP
Water-resistant protection for use in various environments
Connected Fitness system measures, monitors, and manages factors determining how you feel
Tracks and analyzes sleep patterns, daily activity, workout intensity, and weight
UA Band measures sleep, resting heart rate, daily activity, and workout intensity
Start and track workouts to capture duration, pace, distance, and calories burned when worn with HRM
Display stays on during workouts without having to press buttons
Bluetooth® compatible and syncs to UA Record™
Receive smart notifications and control your music when synced with phone
Set daily alarms to wake up on time
Alerts you when you've been inactive for too long and when you reach step goals
Works with UA Heart Rate chest strap heart rate monitor for in-depth fitness data
Tracks heart rate, heart rate zone, and workout intensity
Connects to UA Band to display real-time heart rate and heart rate zones
UA Scale tracks your weight, body fat percentage, and progress towards weight goal
Scale recognizes up to 8 users for personalized profiles
Wi-fi enabled and syncs to UA Record™
Free UA Record™ app collects data for 24/7 viewing
Set goals, capture sleep, log workouts, measure activity levels, track nutrition, and connect with friends and athletes
Includes: UA Band with two adjustable straps to fit most wrist sizes, UA Band charger, UA Scale, 4 AA batteries, UA Heart Rate strap
UA BAND SPECS:
Battery Life: Up to 5 days
Battery Type: 110 mAH embedded battery
Wireless Compatibility: Bluetooth®, BLE compatible
Tracking Memory: Stores data up to 7 days if not connected to phone
Compatible with iOS8.4 or later; Android 4.4 or later
Dimensions: 11.75mm x 11.2mm; long strap = 244.1mm, short strap = 204.1mm
Water Resistant: 2 ATM
UA SCALE SPECS:
Battery Type: 4 AA batteries (included)
Screen: LED screen display with speaker notification
Syncing: Automatically syncs data to UA Record™ account
Compatible with iOS8.4 or later; Android 4.4 or later
WiFi Capable: Yes
Dimensions: 360mm x 35.9mm
UA HEART RATE:
Battery: 220 mAH battery
Battery Life: Lasts up to 365 hours
Water Rating: IPX7, splash and sweatproof
Wireless Compatibility: BLE compatible, automatically syncs to UA Record™
Compatible with iOS8.4 or later; Android 4.4 or later
Size: 360mm x 35.9mm
Brand: Under Armour
Country of Origin: Imported
Style: HEALTHBOX
Web ID: 16UARUHLTHBXXXXXXTCH
Rated 4 out of 5
by
bygorry
from
Potential! Needs some tweaks
- - I have a physicians scale to compare the weight readings with; it is consistently 1 1/2 lbs higher but it is very consistent in that difference; - - the calories burned feature is not accurate; for bike riding it can be off by twice; additionally, the step feature is inaccurate when riding a bike; - - the dashboard feature allows you to go back to "yesterday" and make adjustments; the "How do you feel" feature does not; I have found this feature not useful because I want to record it at the end of the day and if I forget, I cannot go back and edit it; - - same with nutrition; you should be able to go back record your actual accurately;
Date published: 2016-05-25
Rated 3 out of 5
by
BlueC5Kitten
from
Will a waterproof version be created?
I was totally sold on this set-up, until I read that the wrist band and heart rate monitor are only splash and sweat proof. One of my best and favorite ways of exercising/working out is by swimming, in a pool, the lake, or the ocean (and SCUBA diving, too). It would be HUGELY beneficial if this set-up was waterproof (even if not at pressure while diving), since aquatic exercise is amazingly efficient at resistance training, too! The instructions say to "Wear it all the time." but you can't wear it in the shower, either (which can also provide detailed cardiac feedback)!
Date published: 2017-03-14
Rated 1 out of 5
by
SkyAgain451
from
Just not there...had potential
I have had many fitness bands. This one is just average. It fails to stayed synched but is tolerable. The scale is, well a scale, nothing special there and also has synch issues. The heart rate band is just a joke. It has never stayed synched and it also turns off randomly. I guess that could be the battery, but hey, it is new, so why should that be an issue. Overall I am very disappointed in the package. It is way undependable and just adds complication and unnecessary hassle to my workout...not what I had expected obviously, especially for the price.
Date published: 2016-07-14
Rated 4 out of 5
by
UAtriathlete
from
Great idea. A little tweaking and UA will own wearable fitness
Bought this in February and love it! The setup was extremely easy and the Band is very comfortable. At first the app, UA Record, had much left to be desired but with the new update and link to MyFitnessPal it works even better. I am having problems with the calorie adjustment from steps recording correctly to MyFitnessPal. If that were to get fixed I would give it 5 start. This is not really a complaint, just something for UA to think about. With the swimming workout on UA Record, why not make a UA Heartrate monitor we can swim with? Garmin has one and this could be a great upgrade option for swimmers/triathletes. Also, with Michael Phelps are one of your atheltes, who better to promote the new heartrate monitor.
Date published: 2016-03-29
Rated 1 out of 5
by
Barleypop
from
Disappointed
I was really excited to get the Health box. I thought it would be good to have everything sync up. Not sure why but that never worked for me. The only thing UA Record will sync with is MyFitnessPal. Neither the heart rate band nor the UA band will Sync with MapMyRun. The Heart Rate band didn't even work. So if you want to do a run, you either have to use the UA Band (which is horrible for running, I walked a mile and it logged .44) or us MapMyRun. Then on to the scale. I got on three different times back to back and the weight went down over 4 pounds. Then my Body Fat came up at 27% but the next morning I was 19%. Sadly very disappointing as I was very excited to not only get the health box but the Gemini Record shoes. I will be taking everything back this weekend.
Date published: 2017-04-26
Rated 2 out of 5
by
Press10
from
I want to love this
I am everything under armour. I have it all so naturally I could not wait to buy this. The scale took forever to set up and doesn't give the most accurate body fat count but it is a great scale. 5 stars for the app and the heart rate band. But the under armour band itself is where the biggest problem lies. "Easy synching" is the biggest lie listed on the page. It does not synch at all. Took me forever to finally get the thing in my wrist and stay and 3 days later it breaks. They say they'll ship me out a new strap for it but come on.400$ and it last 3 days?? I don't think they know how infurriating this is. You buy a product can't wait to use it then have to wait longer to reship a piece that shouldn't have broken in the 1st place. Shotty craftmenship.
Date published: 2016-04-09
Rated 3 out of 5
by
Momof004
from
Overpriced and not accurate
I've had my health box 3 months so I've had time to try it out. I like the band it's comfortable and seems accurate enough on the steps. I think the sleep tracker is fairly accurate also. The scale is not so accurate it fluctuates 6-7 pounds within minutes. I've always weighted myself twice to make sure I get the same number and I rarely get the same weight twice. It's quite frustrating considering the cost. I expected better accuracy. I haven't used the heart rate monitor yet. So I can't comment on it.
Date published: 2016-09-04
Rated 1 out of 5
by
TriathlonMan
from
Band strap snaps off on day 1!
Right out of the box the strap for the band will not stay clipped in. If you try to pull it straight out it will stay put however as soon as you place any angle on the strap it snaps off and falls out. Will not stay on my hand while excersising more then a few minutes at a time. Maybe mine is bad out of the box however it sure seems like a design flaw to me. I saw several reviews with the same compliant after little use. Mine is going back to the store tomorrow unless UA responds with a solution.
Date published: 2016-05-23