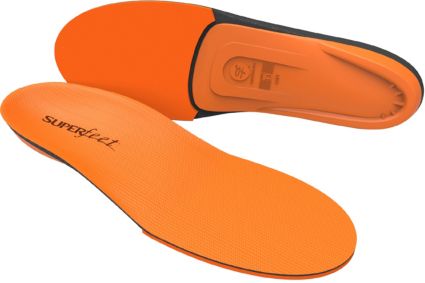 Superfeet ORANGE Insoles
is rated out of
5
by
79
.
The price of the product might be updated based on your selection
This product is currently out of stock.
Please choose product options above
Please choose product options above
PDP Sticky bottom AddToCart Section - active and hide position
Product Information:
The athlete or trainer of any sport or activity has his insert in the Superfeet® ORANGE insoles. Made with HIGH-IMPACT FOAM FOREFOOT, the Superfeet® ORANGE delivers shock absorption with every powerful jump and stride on the hardest surfaces. RESPONSIVE FULL-LENGTH FOAM LAYER closed-cell foam adds comfort and cushion every minute the Superfeet® ORANGE insoles are worn and ORGANIC ODOR CONTROL keeps your feet fresh.
Click here to learn more about Superfeet Insoles Fit Profiles and Volume
FEATURES:
Made for high-impact activities
Comes with shock-absorbing foam forefoot, making it great for the athlete or trainer of any sport
High-impact foam forefoot boasts support and shape for any feet
REINFORCED STABILIZER CAP base of the insole supports the rear foot, adds structure, stability to foam layer
DEEP HEEL CUP features widest, deepest, structured heel cup for unbeatable support and shock absorption
BIOMECHANICAL SHAPE low-profile shape stabilizes the foot, improves energy transfer, adding power, control, comfort
RESPONSIVE FULL-LENGTH FOAM LAYER closed-cell foam maximizes cushioning for day-long comfort
HIGH-IMPACT FOAM FOREFOOT ensures shock absorption during high-impact activities on hard surfaces
ORGANIC, ODOR CONTROL COATING is all natural, eliminates odor-causing bacteria
Vegan, free of latex, nickel sulfate, formaldehyde and preservatives
SIZE CHART:
Shoe Size: B = Kids' 2.5-4, Women's 4.5-6
Shoe Size: C = Men's 5.5-7, Women's 6.5-8
Shoe Size: D = Men's 7.5-9, Women's 8.5-10
Shoe Size: E = Men's 9.5-11, Women's 10.5-12
Shoe Size: F = Men's 11.5-13
Shoe Size: G = Men's 13.5-15
Shoe Size: H = Men's 15.5-17
Brand: Superfeet
Country of Origin: Imported
Style: SF74
Web ID: 16SFTUSPRFTRNGNSRGSA
Rated 3 out of 5
by
GMonk
from
More Sizes Needed
I wanted to get the orange ones for my daughter who wears a youth 6.0-6.5. Unfortunately the smallest ORANGE is a "C" (W:6.5-8); I thought it'd be easy to trim it down to fit, but because the arch is set, it fits a bit strange. Also, it makes a gooshy sound in the shoes when walking. We later decided to try the GREEN which came in "B" (W:4.5-6) which required no trimming and slid right into my daughter's shoe. Fit ok but not as much support. Not as much goosh. I guess she won't be robbing any banks soon. Unfortunately, Dicks is understaffed, and the guy working in the shoe department knew nothing about anything. The checkers don't know anything either. They just "work here". Useless!
Date published: 2018-03-06
Rated 5 out of 5
by
RobertL
from
More comfortable than expected. Highly recommend.
I've dealt with plantar fasciitis for about 3 years now. Although surgery helped, it did not solve the issue completely. I tried several other insoles and this one was my last hope before I get custom made ($$$). I went 1 size larger than what matched my shoe size because the arch fit my foot better. Remember you can always trim the insole to fit. I was a little concerned these would not have enough cushion but I've been impressed. I highly recommend these to anyone having PF issues or foot/knee/leg/back pain in general. You may not need this aggressive so be sure to do your research and test a few out in the store.
Date published: 2015-11-18
Rated 5 out of 5
by
SuperfeetProponent
from
Heel pain / Plantar Fasciitis Improved Significantly in less than a week
Summary: If you're like me, you depend a lot on reviews when purchasing items, so given the long process for me with choosing an insole, I wanted to provide as much detail and assistance as possible. This review is for the superfeet insole product-line, not just the orange insoles. If you have plantar fasciitis related heel pain, the superfeet product-line most likely has a solution for you. It's very important to ensure the fit of the insole is correct, e.g. 1. size - where the arch is on your foot relative to the heel and 2. arch height - which is determined by the color, low, med or high arches. Everyone is different, so you have to find what works for you. Go to a store and simply place the multiple color insoles up to your foot while elevated. Make sure the arch lines up with your arch when the your heel is positioned in the heel cup. If not, change the size to align the arch to your foot, make sure your heel is properly placed. Superfeet provides the size chart, but remember, this is a guide and may not work for you. Buy the size that aligns the arch in the correct location relative to the heel. You can always trim the insole to fit in the shoe no matter what size insole you buy. Again, with your foot elevated, place different colors to your foot. You're looking for the one where the arch aligns best or conforms best to your foot. For example, blue is more for a medium arch, while green and orange are more for a high arch. I tried blue at first and after a short period of time, they did not work for me. Since then, I determined that green and orange work best for my foot. I've worn the green in my everyday shoes and orange in my running shoes b/c they provide more cushion and after a week, I'm nearly pain free. This is a true game changer!My Background....For those more interested in the details... I typically don't write reviews but this PF and heel pain has been so bad for me that I felt the need to help others through my own experiences over the past year. I'm 37 years old, 200lbs, an avid runner, e.g. 15-25 miles per week during peaks, and have been experiencing heel pain for about a year now, however, I've been running for 4-plus years with little heel issue prior to this past year. Stretching seemed to help at first, but after doing my own research, I've found that focused stretching of the heel and foot for PF may do more harm than good for those with plantar fasciitis, more on that later. I'm very frugal, so getting a $45-$50 insole was not desirable, I thought that's why I spent the money on an expensive shoe every 3 months. In hindsight, that was a mistake b/c the pain has been so unbearable that I would struggle to walk for 1-2 days after each run, then repeat that each time I ran.A little about how I determined the color and size that was best for me. Based on my footprint, it appears I have a medium arch, so naturally, so based on reviews I initially went with the blue insole. These did not work for me. I wore the blues for a few days and they felt OK so I took them for a run. The heel pain was still there and was as considerable as its been for the past year, but since most reviews stated that there is up to a two week break-in period for the insoles, I just thought it hadn't started to improve yet. Well, then after a few more days of little or no improvement, I decided to return the blues and investigate the different colors. I went to the store and did exactly what I mentioned above. I recommend going to the store to determine size and color as opposed to buying online initially, if you must buy online, buy different sizes and colors b/c the charts/guides are exactly that, just guides. It turns out the green and orange conformed better to my foot. I'm a size 10.5 shoe, so I used the size guide and it turns out the E worked out well for me. Note that I did not have to trim the insole to fit it in my shoe. it says it fits a 9.5-11, so I initially thought I might have to trim it, but didn't. Given the alignment and conformity, I purchased both insole colors, the green for everyday shoes and orange for running b/c of the higher shock absorption. I've been wearing the green for 3 days and have already seen a significant improvement in my everyday foot pain. I also took the orange for a run today and WOW, what a difference. I can actually walk after my run. I still have a little pain, but I suspect that will go away after time since I will continue to wear these. I may switch altogether to orange in my everyday shoe along with the running shoe b/c of the shock absorption. If you examine the heel closely, the orange has a little more cushion, enough to where it makes a difference for comfort. I've always tended towards a more cushioned insole or shoe.Basically, I think if/when you find the right superfeet insole, you don't need 2-weeks to know which one will work best for you. If you are similar to me #and my pain was nearly unbearable), you will know within the first week if not sooner. Don't waste your time on the wrong color if you don't see at least a noticeable improvement. Again, pay attention to the arch location and height when choosing your color and size. This is imperative to finding a comfortable insole to improve you situation!Regarding my stretching comment from earlier, if you have PF, then you know that the first few steps in the morning are the worst. For the past month or two, I had been doing stretches religiously. First thing in the morning before even placing my foot on the ground, I would do 2 minutes of stretching on each foot using my belt to stretch out the heel. I would regularly massage the foot/heel with a tennis ball, and before bed I would ice the foot or use and frozen water bottle to massage my foot. I also periodically did the step stretch, e.g. hanging my heels over the edge of the step to stretch the PF. These stretches seem to help somewhat, but I noticed that my right foot, which didn't have as much pain as my left was getting worse once I started doing my stretching. With extensive research, I found a video posted by a podiatrist that stated that the plantar fascia doesn't actually stretch or elongate. The pain you experience is actually the plantar fascia pulling on the bone that eventually over time will cause a bone spur on the heel. Either way, I'm not a doctor, but I know that I wish I would've seen some more detail in these reviews to help me determine which approach is best for me. I hope this helps you all in your attempt to improve your overall health.
Date published: 2015-09-29
Rated 5 out of 5
by
Doggedness
from
Theses do work!
I have some extreme pain in my feet and my doctor recommended that i use this product. I have the orange insoles and I have noticed a change in my pain levels in my feet. This type of product does not give you a wow effect when you use it. In my case I can report a change only because my arches are in desperate need of the support I am now getting. Theses do work! My opinion is that everyone should take the insole that comes with your shoes and install the superfeet insole that fits your feet. Yes it is a great cost increase in shoe purchases but in the long run it is necessary.
Date published: 2015-10-21
Rated 5 out of 5
by
VolleyballMom
from
Superfeet Orange Insoles are perfect for my young athlete!
Previously used the 'Blue' and now 'Orange' and it's perfect for my 12 yr old daughter! She definitely punishes her feet as she plays competitive volleyball and these work like a charm. Blue is good for your day to day average activities, but if you're someone who is jumping a lot or active on hard services, Orange is way to go! My daughter also has 'flat feet' and Superfeet provide enough arch support to where my daughter has no pain in her arches, knees or hips even after a 2-3 hour hard-hitting/jumping volleyball session!
Date published: 2015-09-19
Rated 5 out of 5
by
Angela
from
This product really works!
Without these insoles, my daughter could not play sports! Because of her low arch, her ankles and knees hurt when she runs, but when these insoles are in her shoes, she feels no pain! These are are necessity for her. The only negative is that she wears them out every two months. I wish they lasted longer!
Date published: 2017-01-18
Rated 5 out of 5
by
Kids4
from
100% satisfied
My 11year old has been playing basketball and dealing with excruciating heel pain caused by a condition called slayers disease. He recently saw his podiatrist and it was recommended that he get super feet insoles. We purchased them that evening and have not heard him complain of heel pain since.
Date published: 2016-02-17
Rated 5 out of 5
by
ibis1
from
Good Insole
I have been looking for good insoles for a long time. These have been the best I've found. If you buy a pair, don't worry about the length. They will all need to be trimmed at the toe end. Make sure your heel fits into the cup. Also give them a little time to break in.
Date published: 2016-05-08