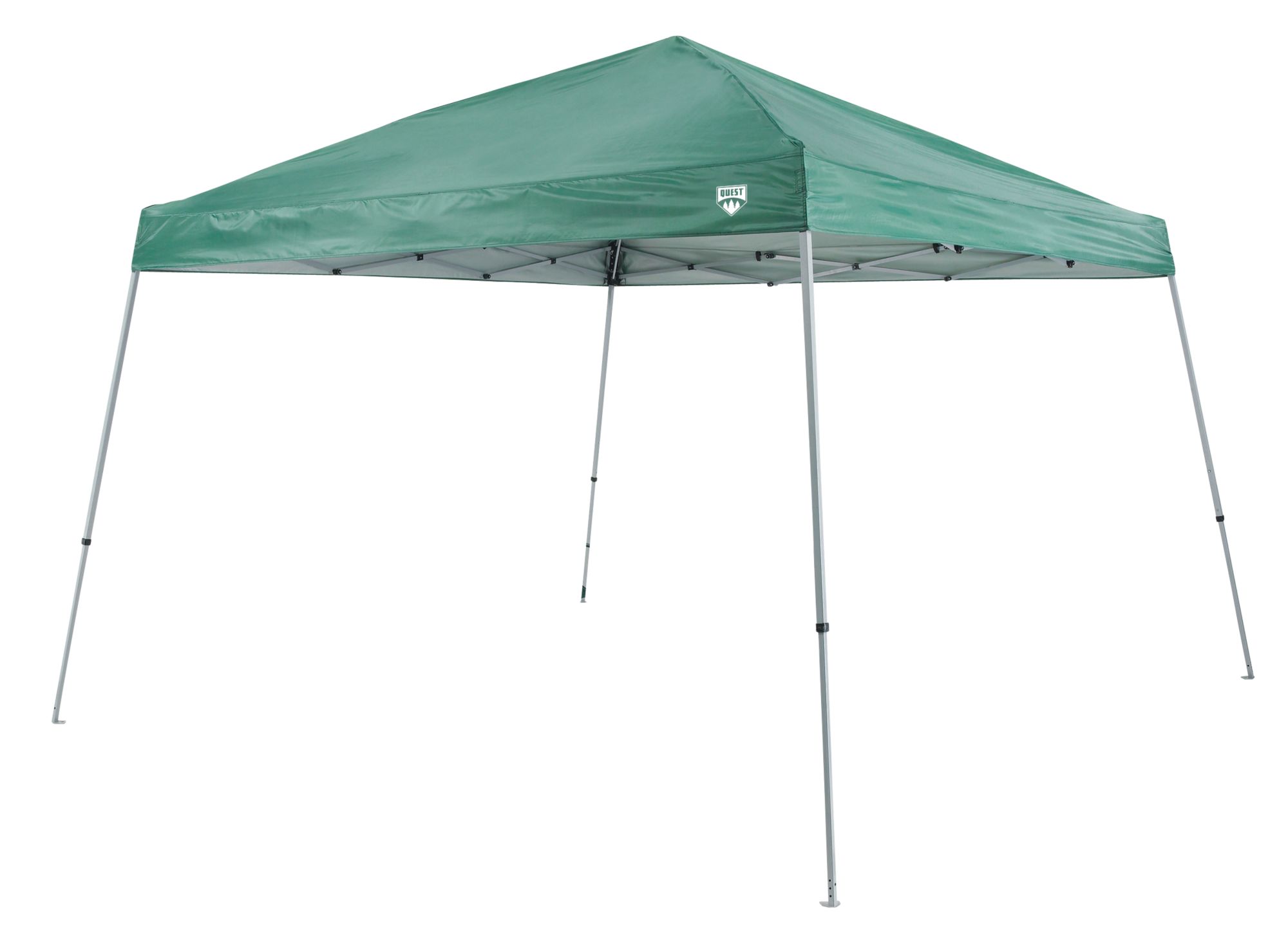 Out of Stock
Quest 10' x 10' Instant Up Slant Leg Canopy
Quest 10' x 10' Instant Up Slant Leg Canopy
is rated out of
5
by
4504
.
Product Information:
Bring cover and shelter to your tailgate, backyard, or campground with the Quest® 10' x 10' Instant Up Canopy. The angled steel frame creates a sturdy 10' x 10' base, while the 8' x 8' dome top offers 64 square feet of shade to stay cool outdoors. Its instant up design means set-up is quick and easy. This recreational canopy folds down and fits inside its convenient storage bag.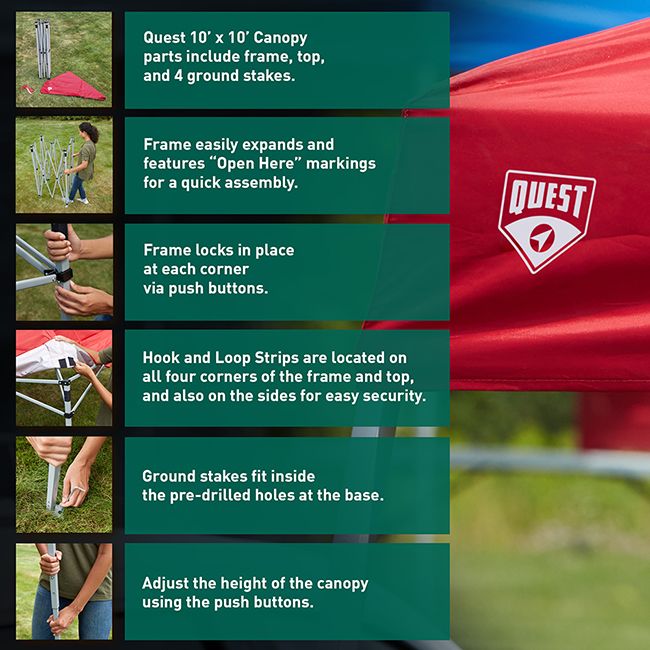 FEATURES:
Instant up design for a fast assembly
Ideal for the sidelines, stadium, backyard, or the campsite
Durable steel frame
Slant leg design adds stability at the base
Telescopic, adjustable legs have 2 different heights
150D Silver coated polyester fabric top
Water-resistant and fire-retardant
Includes 4 ground stakes for extra stability
Carry bag no longer comes with wheels
SPECS:
Top Dimensions: 8' x 8'
Base Dimensions: 10' x 10'
Shade Square Footage: 64 sq. ft.
Walk-In Height: 6' 1"
Peak Height: 8' 7"
Leg Dimensions: 25mm. x 25mm.
Roof Truss Dimensions: 21.5mm x 11mm
Carry bag dimensions: 53" L x 8" W
Click here for additional information relating to the Manufacturer's Warranty.
Brand: Quest
Country of Origin: Imported
Style: CEH00296
Web ID: 15QUEUQ6410X10NSTODRXXX
Rated

4

out of

5
by
Nisha80
from
One of my best purchases!
I don't get all the negative reviews cause for $50 (what I paid for it), this has been WAY worth the money. I camp, go to the beach, picnic, summertime events - in short, I spend a pretty good chunk of time outdoors. Last year, I bought this canopy just before summer. Since then, I've used it soo many times and it's held-up great. Anytime I go anywhere outdoorsy with friends or family, this comes with me. It's saved the day many times over, providing shade for long days at the beach and on camping trips, etc. I also bought the netting that goes with it and that's been great on camping trips, keeping bugs away from our picnic table, etc.
Date published: 2017-07-11
Rated

5

out of

5
by
Cessna Mike
from
Very nice!
I just finished my first test setup which included a new Quest 10X10 Mesh Screen. It was a little tricky unfolding the structure by myself, but I'm sure it will be easier the second time. I am impressed with the workmanship in both the canopy and screen. CAUTION: The top 4 corners of the structure are square with plastic inserts. The fabric makes a snug fit over these corners. If care is not taken, I can see why some reviewers have complained about the fabric ripping. I am considering rounding off these corners with duct tape. A full field test is yet to come. But right now, it looks great, is easy to setup, and should hold up to light to moderate winds with proper stake-down.
Date published: 2017-07-15
Rated

1

out of

5
by
surfer01
from
CHEAP FRAME/BROKEN WHEN OPENING
Bought this product brand new. When we pulled it out of the packaging part of the frame that holds up the fabric was bend the other way. After trying to "e-z" up open it, it was jammed due to this issue. The framing ended up snapping off the hinge. Couldnt even use the product once before it broke. Be careful when buying this product. Dick's could not replace it because it was past my 60 day return policy.... Im sure MOST of them are fine.. but this one wasn't even though it was brand new and unopened. Pay for what you get. Definitely a temporary few time use type of canopy.
Date published: 2017-10-16
Rated

1

out of

5
by
ggolden
from
flimsy and bent out of the box.
I had a quest canopy several years ago and loved it so when I found this one on sale I didn't hesitate to purchase it.... big mistake. The metal structure of the entire canopy is made from the thinest metal possible. All the cross supports between the legs bow towards the inside making it even less sturdy. I had to anchor it with homemade guy lines just to have some shade for a backyard bbq. Also while sitting underneath and looking up the canopy itself is full of little pinholes....definitely would not want to use this as a rain shelter. Bottom line.... you get what you pay for.... a flimsy, cheaply made, poor excuse for a canopy.
Date published: 2015-07-18
Rated

4

out of

5
by
Maschmidt10
from
Great minus the wheels
I am very excited about this canopy which I plan on using at craft shows this summer. The price was great and the color is very eye catching. However when my canopy arrived one of the wheels was missing and the other one was cracked in half. Normally, I wouldn't mind since the canopy is fine and functional; however, part of the reason I purchased this specific canopy was due to the wheels on the bag since I will be able to transport it by myself at fairs. So with the wheels being broken, it's kind of a bummer. But other then that, it's a pretty solid canopy.
Date published: 2018-04-10
Rated

1

out of

5
by
KIM235
from
OPEN IMMEDIATELY
I received this as a gift for Christmas in 2016. I never had an opportunity to use it until yesterday. We took it out of the bag and went to put it up and pieces were broken and snapping off once we started opening it. Its my fault for not opening it sooner, so I recommend that everyone do that right away. It comes with a 1 year warranty from Dicks and other than that they cant help you. I was hoping to contact the actually company that makes it but was told I could not. It is a shame that you cant even talk to someone about their own products no matter how long it has been, you can clearly see how it was never used. It even still had 2 bows on it from Christmas!!! HAHA
Date published: 2018-07-02
Rated

5

out of

5
by
LeeAsi
from
I've used a lot of canopy tents - this one is great!
This tent is super easy to set up. If you read through the negative reviews, you will find that the complaints refer to using the product incorrectly. Canopy tents and wind don't go together. If using at the beach, bury the legs at least 20 inches down and don't go to it's extended height. If there is wind, immediately fold it down. Not rocket science, guys! The fabric is cheap and a little flimsy, but for the price, it is pretty good. I'm heading over to Dick's today to buy a second one in a different color! Enjoy!!!
Date published: 2017-05-29
Rated

3

out of

5
by
Justsomeguy01
from
Handle with care
The canopy is a good value and comes with great accessories. Be careful trying to adjust the placement or move it without help on at least two sides. The legs are delicate and will bend and break if they get too much lateral strain. The fabric will not hold up to prolonged exposure to sunlight; heavy rain and wind will wear holes against the frame. I recommend that it gets put away after each use. Avoid hanging anything more than a few pounds from the frame as it can buckle under the weight. Just take care of the thing an it should last a long time.
Date published: 2017-08-30