Callaway X Spann Golf Glove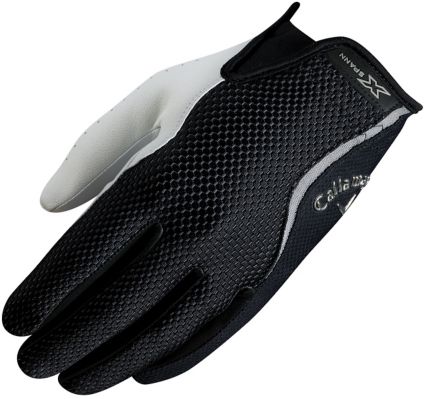 Callaway X Spann Golf Glove
is rated out of
5
by
248
.
The price of the product might be updated based on your selection
This product is currently out of stock.
Please choose product options above
Please choose product options above
PDP Sticky bottom AddToCart Section - active and hide position
Product Information:
The innovative, compression fit in the X Spann glove provides golfers with a fit like no other. There is no pull-tab, which makes the snug fit more natural and comfortable. The multi-material design is lightweight thanks to the full and thin cabretta leather palm. Experience a perfect golf glove that fits seamlessly on the hand, and into the game with the Callaway® Men's X Spann Golf Glove.
FEATURES:
Compression fit, lightweight design fits seamlessly into golf swing
Soft feel with full control
Pull tab-less design creates snug and natural fit
3D performance mesh enhances breathability
Compression system provides ideal fit
Moisture wicking keeps hand dry for superior grip
Breathable design keeps hand cool during round of play
Flexible design allows hand to move naturally and freely
Full palm cabretta leather is thin and soft yet strong and durable
Silicone, chevron tension sensors on microfiber suede for additional grip and club control
Cadet Fit – Golfers with shorter fingers and wider palms
Regular Fit – Golfers with proportional fingers and palms
Callaway
Brand: Callaway
Country of Origin: Imported
Web ID: W13CALWYXSPNGFGLV
Rated 5 out of 5
by
spike5
from
Best glove I have ever worn !
I had ask my wife last year in the beginning of the season to stop and pick me up a new golf glove ! Usually I get the cheaper glove but she came home with the Callaway x spann glove instead ! I gave it a shot and fell in love with this glove. Normally I could go through about 2 cheaper gloves a season but this glove has made it through 2 seasons now! I'm finally ready to get a new glove now and if my finger wouldn't have poked through the glove I would still be using the same glove ! I play at least 2 to 3 times a week and this glove has last me longer than any other glove I have ever used before ! Great buy for the money.
Date published: 2015-08-16
Rated 5 out of 5
by
John
from
Love these ..
At first I was worried since these were the only Right Hand XXL I could find on the rack at my local DSG. After my first round, I went back and purchased the remaining 3 on the rack as back-ups for when this glove is ruined from use. Easy on, easy off without having the velcro strap. Its comfortable and provides excelent grip.I actually purchased 1 LH glove later in the fall to use during softball season on my glove hand to keep my hand warm. I don't like using baseball gloves as they enlarge the finger holes on the mitt. It worked great and I had better grip on the bat with the golf glove than I did with the baseball gloves.
Date published: 2013-11-06
Rated 4 out of 5
by
MDLopez77
from
If you find one that fits...
Bought my first X Spann glove in a mens medium and it fit perfectly. Swore I would never buy another glove again! The next time I had a hard time finding one that fit! It was either too tight in the wrist or too fat in the fingers. Bought one that was close enough but it was a pain to get on and off, eventually ripped between the leather and mesh due to it gettin to snug around my wrist when pulling off.However, when it did fit it was amazing. no fear of slipping whatsoever. felt like it was a part of my hand. never stretched out like other velcro type gloves do. Held up well to humid Florida weather. Just wish the fit was more consistent...Try them all on before you buy and MAKE SURE it fits PROPERLY.
Date published: 2013-10-09
Rated 5 out of 5
by
Commodog86
from
Great Glove!
I bought this glove based on the reviews from the larger guys that made the same purchase. I too have big hands and was concerned with the fit and durability of the glove. After a few rounds I must say I am pleased with what it has done so far. The fit around my fingers are great and the glove covers the WHOLE hand. With other gloves I have formed a habit of always adjusting to cover the bottom part of my hand. With this glove there is no need, although it not having any Velcro I have to come up with something else to do in between shots. Hands did not sweat very much which is a good thing but will see once the summer months hit the area. Different colors would be nice but I plan to buy another one in the future.
Date published: 2017-05-18
Rated 5 out of 5
by
Bogeyman
from
An invisible glove
I bought this glove because I was tired of traditional tabbed gloves loosening over time. Putting the glove on and taking it off does take some getting used to but when you remember that it is a compression fit glove, the extra effort is worth it and becomes second nature. I used to take other gloves off to putt but this glove is invisible. Once it's on, the snug fit and the thin leather makes me forget that I have it on. I love the look of the glove and it has great durability. I have recommended the glove to my club pro as an item to be stocked in the clubhouse but he said that the price point in Canada makes it hard to sell to our members. I do find that the $22 price is stiff, but I don't think that there is a more comfortable glove on the market. If I can buy a supply of right hand gloves from this site then I will never have to look at another glove.
Date published: 2015-06-24
Rated 3 out of 5
by
FujitaSummers
from
Fantastic and Frustrating
Fantastic: this is flat out the most comfortable glove I have ever worn: soft, supple, more breathable than most - literally like a second skin. Gorgeous. Frustrating: when I put it on i feel like a someone lying on the floor pulling up the zip of a pair of jeans that are too small. It is near impossible. And taking it off is twice as bad - after a hot round you feel like cutting them off like Springsteen's jeans. I have no idea what to think about it: for its primary function its a 5, but i could easily give it zero! If you putt in your glove and never take it off all round (like me), then this is for you.
Date published: 2014-10-15
Rated 2 out of 5
by
Bellke
from
Difficult getting on and off
I bought his after looking at the back and thinking it would be cooler in the high humidity, high heat of summer. It seems to work well in that regard and the ridges on the ring and little finger help grip the club better but the glove is so hard to get on and off you won't be taking it off between shots. I'm almost tempted to putt with it because its so hard to remove. It doesn't have the velcro tab as other gloves do but instead have an elastic wrist band with in theory is a good idea, but definitely not in practice. On top of it all it tends to run $3-4 more than my regular glove.If it was easier to get on and off I would probably like it much more but I won't be buying another one.
Date published: 2013-07-04
Rated 2 out of 5
by
Anonymous
from
comfortable but not durable
This glove is very comfortable. It's unique in its nature that it does not require a Velcro strap to get the glove on and off. Loved it at first. After a month of playing my thing had completely worn a hole in this glove. Had to throw it away. It wasn't worth it's weight in my bag. My last glove last an entire season. This one...not so much. Would recommend if you only play 5 times a year. It won't last past that. Very disappointed.
Date published: 2016-09-03